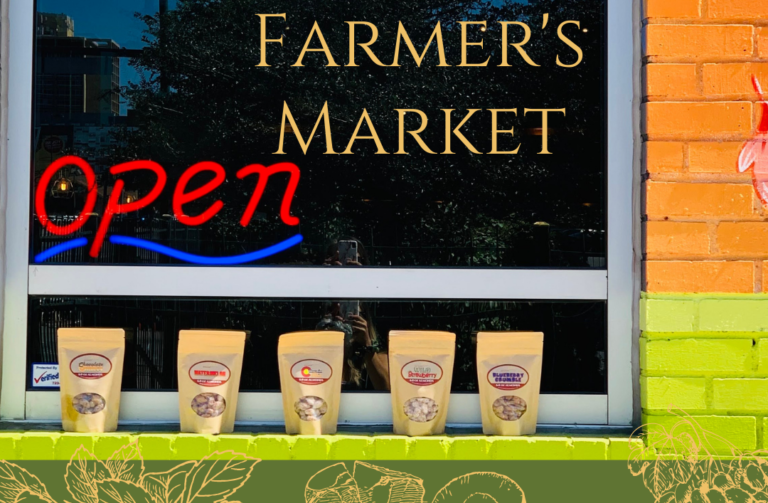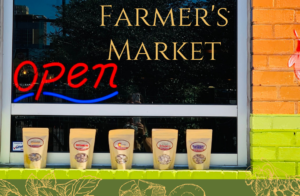 But, on to your other option for finding our products!  If you live in the Denver Metro area, then there are three stores that carry our products:
Wheat Ridge Poultry and Meats in the CO-OP Market and Kitchen, located at 5640 West 29th Avenue, Wheat Ridge, Colorado 80214.  This is our newest store, and no, we're not in the butcher shop (although there are some awesome cuts of meat in there!).  Next to the butcher shop is the Wheat Ridge CO-OP Market and Kitchen.  They just took over the space there, and the plan is to have a smoothy bar and a lot of local food products (and we're in that area).  Note that at the moment, we only have 10 of our flavors there (this may change later), and only our almonds.
Now, if you want a store that has all of our products and all of the types of nuts, the The Local stores are for you:
The Local at Southlands, located in the Southlands Shopping area at 6205 S. Main St., Aurora CO 80016.  Full of Colorado products of all types.  Lots of food items of all sorts (including us of course!) plus art, jewelry, clothing – tons of Colorado products for you and yours.  And lots of great gift ideas as well.
The Local at Parker, located at 19565 E. Mainstreet, Parker CO 80134.  The first of the Local stores, this store is right on Mainstreet in downtown Parker.  Great Colorado products of all types, and lots of great places to shop or eat at on Mainstreet!
Hope this helps you find us.  If you live out of state (or a way from the store sites), then I'm afraid your only real option is ordering from our website – just remember that if you order six bags or more you don't pay for shipping!
Thanks,
Bruce Telford