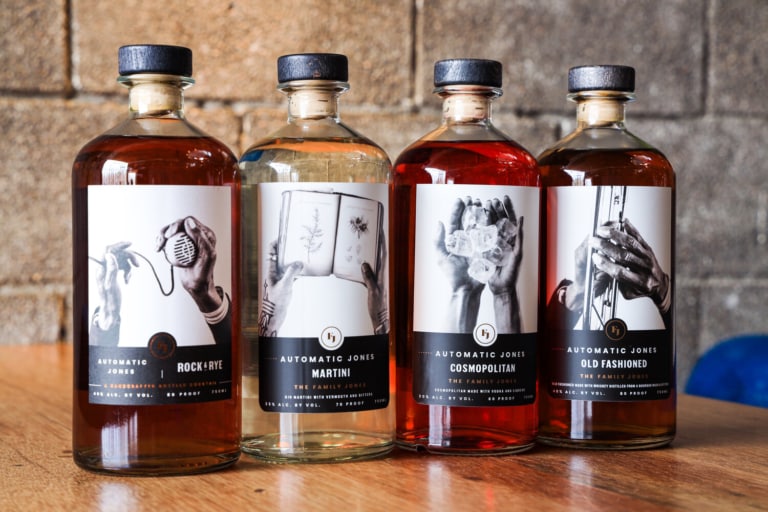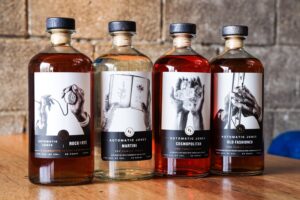 This week's favorite is the Family Jones Spirit House and Distillery.  I first discovered them at the Friday South University Farmers Market (it's at University and Orchard, behind the Shell Station and across from the Academy, every Friday from 10:00 am until 2:00 pm through the end of October).  Their Spirit House is in Denver (3245 Osage St.) and is the lab where they create and fine tune their recipes (and they serve some food items to go along with all of their wonderful spirits), and they have another, slightly larger distillery in Loveland.  
One of the things that I really like about the Family Jones products is that in addition to their straight spirits they also sell ready to pour cocktails.  They have four (so far), all of which are excellent – Rock & Rye, Gin Martini (my favorite), Cosmopolitan, and Smokey Old Fashioned (my second favorite).  And of course, they also have more traditional straight spirits – a premium line with vodka, gin (including an earl gray gin that I haven't had a chance to try yet but hope to soon), rum, rye, and bourbon, as well as their House Spirits – vodka, gin, and a really nice American whiskey.
The Jones Family Distillery reps do sample some of their wares, and while I haven't sampled them all (need to stay coherent so I can explain all of our almond flavors to potential buyers!), I've sample several of them (over several different markets, mind!).  And I've bought from them as well, which should tell you that I really do like their spirits (I don't spend my hard-earned money on things I only kind of like!).  As I said, their American whiskey is very nice, and their gin is very good as well.  And I'm sure that as I sample more of their products, I'll find more things to like – they certainly haven't disappointed so far.
It's always nice to find a local company that's putting out quality products, and the Jones Family Distillery certainly falls into that category.  I hope you look them up and perhaps sample a few of their remarkably good spirits and ready to pour cocktails.  I look forward to seeing all of you at the markets, and please – use the "Contact" tab on our website to let me know what you think of the Family Jones Distillery!  
– Bruce Telford