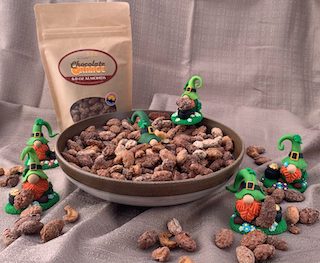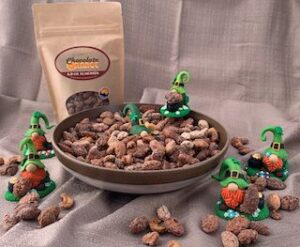 With March and St. Patrick's Day fast approaching, everyone with any Irish background at all (and a great many people who consider themselves to be an honorary Irish person just for the holiday) are getting ready to celebrate.  Such celebrations oft times involve a goodly quantity of beer (for those who imbibe, and hopefully not colored green – just saying…), some Irish/American delicacies such as corned beef and cabbage, and of course wide variety of snacks to soak up the aforementioned beer.  And if it's snacks you're looking for (especially if you're all mixed up about whether you're Irish enough to celebrate St. Patrick's Day or not), then we have some nut mixes on sale in March!
We have two mixes that we make (Crazy Mixed Up Nuts and Harvest Mix), and while they're very different they are both really tasty.  For the Crazy Mixed Up Nuts we take some nuts in each of the flavors (almonds, pecans and cashews are in the mix) with the exception of the spicy and savory flavors, and then we mix them up really well and package them.  No idea what's in any particular bag, but there will be several flavors for sure.  As for the variety of nuts in each bag, you just never know.  It could be all almonds or a mix of any of the different types of nuts – you basically roll the dice and take your chances!
For the Harvest Mix, we mix our take on the traditional Cinnamon flavor in both almonds and pecans, and then add almonds and pecans in the Harvest Spice flavor (cinnamon, ginger, nutmeg, cloves and allspice – a subtle spice flavor and one of my favorites).  We mix all of that together, and then mix in roasted, salted cashews!  A remarkably nice mix of salt and sweet, with all three types of nuts in the mix.
Now, in addition to the sale on our nut mixes, I'm going to share my favorite corned beef recipe with all of you.  As I mentioned earlier, corned beef is not, by and large, a dish that you'll find in Ireland.  Corned beef was the least expensive cut of meat available when Irish immigrants arrived in New York City, and so it became a staple instead of the much more expensive lamb or bacon that they were used to having in Ireland.  And eventually, it became a traditional St. Patrick's day meal for Irish Americans (and any friends lucky enough to be invited over for dinner on the holiday!).  
Our favorite version of corned beef is a bit more labor intensive than just boiling the corned beef with carrots and cabbage (it's a two day process), but it's definitely worth the extra work.  We usually serve it with sauteed cabbage with egg noodles and lots of pepper and some dilled carrots cooked in Guinness, but by all means, use whatever sides you want (and if I get a chance, I'll post the recipes for the side dishes on our website under the recipes tab, so check the website before you make the corned beef recipe). Glazed Corned Beef
Amount         Measure      Ingredient — Preparation Method
——–             ————     ——————————–
  4                      pounds         Corned beef brisket — trimmed
  8                     whole            peppercorns
  2                     each                bay leaf, whole
  1                      cup                  dijon mustard
  1                     teaspoon       dry mustard
  1                     cup                   honey
 2/3                 cup                   sherry vinegar
2/3                  cup                   brown sugar — firmly packed
  2                    tablespoons  sesame oil
Begin brisket preparation two days ahead:  
Place brisket in a large pot.  Add enough water to cover, and cover pot.  Refrigerate brisket at least six hours or overnight.
Drain brisket.  Add water to cover, peppercorns and bay leaves.  Bring to boil.  reduce heat, cover and simmer until tender, about 3 1/2 hours.  Drain brisket, cool.  cover and chill overnight.
Transfer brisket to heavy shallow roasting pan, fat side up.  Bring brisket to room temperature.
Preheat oven to 350 degrees. Whisk mustards in heavy small saucepan.  Stir in remaining ingredients.  Simmer five minutes, stirring constantly.
Spread glaze generously over top and sides of brisket.  Bake until heated through, about 45 minutes, reglazing every 15 minutes.
Enjoy the corned beef recipe (and the nut mixes!), and as they say in Ireland, may your days be many and your troubles be few!
Bruce Telford