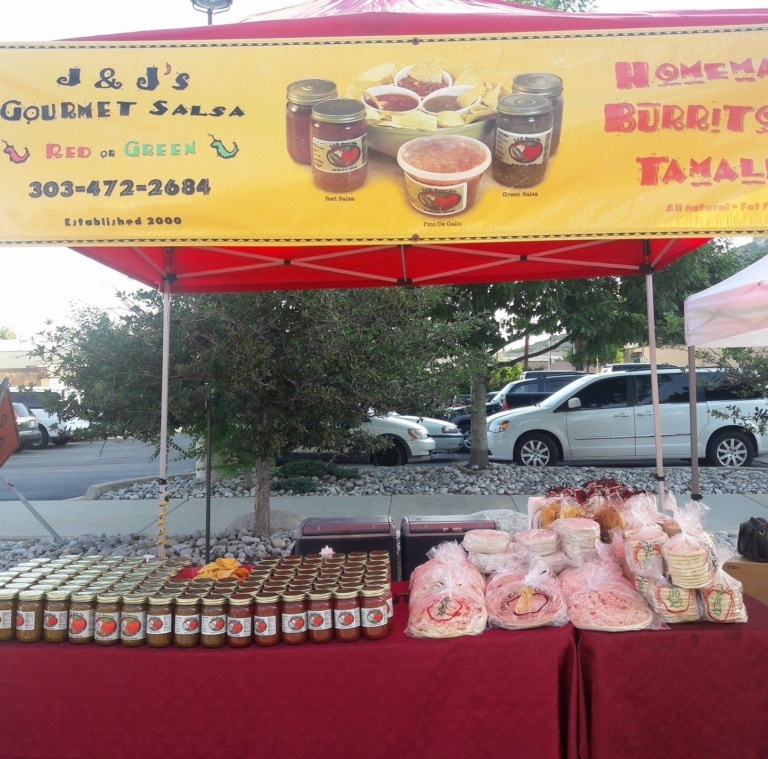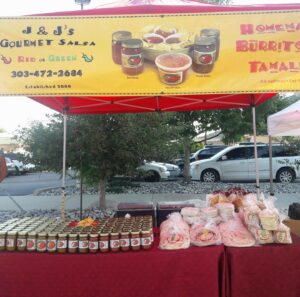 The very first subject for this (hopefully long) string of articles is one of the few vendors that I know that have been at the Farmers Markets even longer than I have.  Jeanette and Juanita of J&J's Salsa have been working together for twenty some years.  They have been friends for even longer than they've been working together, and still try to have lunch together once a week or so – which considering how busy they are cannot be easy.  They share a commercial kitchen and each prepare their own products and sell them at separate markets, but no matter whether you come across Jeanette or Juanita you're going to be seriously happy with what you buy.
Since Jeanette does the same markets that I do, she's the one I'm going to be waxing rhapsodic about.  Her bestselling items are probably her breakfast and lunch burritos, but she has a lot of different items that I'll get to in just a moment.  But first, the burritos!  In my experience it is not easy to find a good breakfast burrito.  They're either all potatoes or too small or just bland, but Jeanette has figured out the magic formula.  They have a good ratio of potato, eggs, cheese, sausage and green chili, and they're some of the best that I've had.  And her lunch burritos are awesome as well – a great mix of beans, cheese and pork green chile – and she keeps them piping hot all day (must be magic!).
Now if you're looking for something to take home for dinner, she also sells frozen enchiladas (beef, chicken and cheese) and tamales (red and green), as well as a remarkably good selection of jarred or fresh red and green salsas (as well as my personal favorite, which is a jalapeno cilantro sauce that is killer on just about anything – just stir some into a dish of white rice to give it a little kick and a great herbal flavor!).  There have been several times that the frozen enchilada and tamales have made a really nice dinner when we have unexpected company or are just too darned exhausted to make dinner.
She also has a few other things to tempt your taste buds, but I'll leave those as a surprise.  Do try and find her – she does the Denver Metro Farmer's Markets (go to denverfarmersmarket.com to find locations and dates) along with me, and they do several markets a week.  Trust me – it's well worth taking the time to find her, not to mention all the great fresh produce and fruit that's available this time of year!
I look forward to seeing all of you at the markets, and please – use the "Contact" tab on our website  to let me know what you think of Jeanette and her great products.  
– Bruce Telford